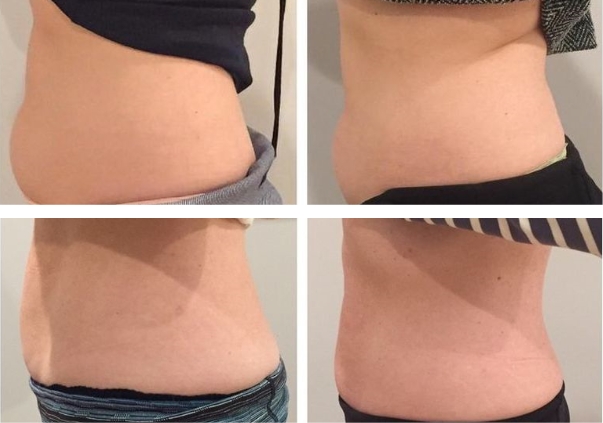 What is SculpSure?
SculpSure is a non-invasive, laser-based, body contouring system for the reduction of unwanted fat in areas such as the abdomen and flanks. Up to 24% of fat cells can be eliminated in a 25-minute procedure with no surgery, no downtime, and virtually no discomfort. SculpSure channels the power of the laser to target unwanted fat in those problem areas.  Aspire Med Spa is located in Lexington, Peabody, and Wellesley, Massachusetts.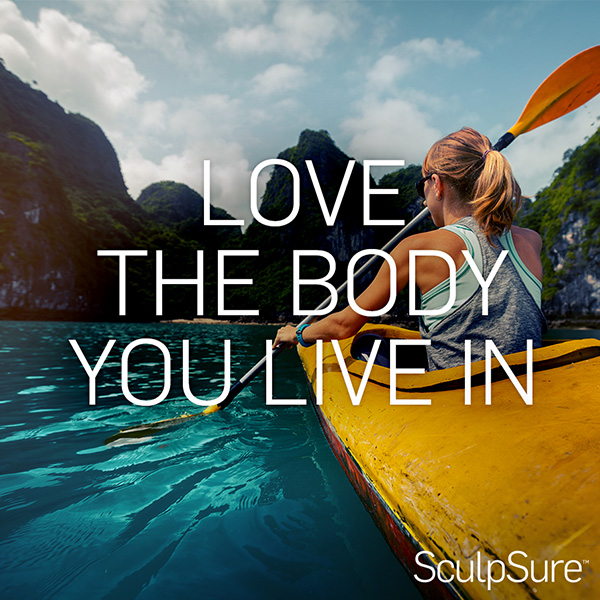 ---
$800 off each SculpSure series for a limited time.
No Downtime. Non-Invasive. Real Results.
All series include a Pelleve Skin Tightening of treatment area at 12 weeks post treatment
---
How does SculpSure work?
The technology carefully delivers controlled laser energy deep into unwanted fat cells. The light energy from the laser heats and shocks the targeted fat cells. After this, the body slowly eliminates the destroyed fat by way of its normal metabolic systems. The applicator device is non-suction based. It is equipped with Constant Cooling™ technology. This keeps the skin at a safe, cool and comfortable temperature during the treatment.
Is SculpSure appropriate on ALL areas of the body?
SculpSure was initially designed to target excess fat on the abdomen, waist and flanks (love handles). These areas are traditionally parts of the body that often hold onto fat cells. These areas can be stubborn and resistant to fat reduction through diet and exercise alone. This is sometimes known as "fit fat". Other areas of the body that are hard to tone and eliminate fat are: the inner/outer thigh, the bra line, the knees and arms can also be targeted and will be treated with SculpSure.
How long does a SculpSure treatment take?
A single SculpSure treatment requires only 25 minutes. The advanced applicator enables simultaneous treatment of either flanks or the entire abdomen in one session for some people. With other technologies, these areas can require longer treatment times, pain, downtime, skin laxity, and bruising. If you wish to have more areas treated consider scheduling your treatments back to back to benefit from a synergist effect of multiple areas of fat destruction.
When are results from SculpSure typically seen?
SculpSure works by having your body safely, naturally, and painlessly absorb and metabolize unwanted fat cells that have been heated and destroyed by SculpSure's laser. The contour of the treated area will improve slowly as the fat cells are absorbed. Some people begin to see results in as little as 3-6 weeks, but best results become clear in 8-12 weeks for most. Some people will require a third, fourth, or fifth treatment that is done at 4-week intervals to achieve aggressive results.
How safe is SculpSure?
SculpSure is the first and only FDA-approved laser treatment for non-invasive body contouring of the abdomen and flanks. The treatment does not have the same risks, side effects or complications that can be associated with liposuction or other surgical procedures.
---
Is there downtime with the Sculpsure procedure?
SculpSure is a non-invasive and virtually pain-free treatment There is minimal, if any, downtime with SculpSure. In fact, people can return to all normal activities immediately. During the treatment, people report experiencing only a mild warming sensation and, after the Sculpsure treatment, some people have reported feeling like they've had an intense abdominal workout. No significant side-effects or complications have been reported. There is virtually no downtime.
Are the effects from SculpSure permanent?
SculpSure effectively removes excess and unwanted fat cells from the abdomen and flanks. Once these fat cells are destroyed and absorbed by the body, they cannot reappear. Weight gain, however, can cause remaining fat cells to grow larger. This occurs with overall weight gain if you change your exercise habits for the worse after a SculpSure treatment. This can undermine the results of the SculpSure treatment. It is important for everyone undergoing body contouring procedures to maintain a stable weight and avoid weight gain. This will ensure long lasting results.
Who is SculpSure right for?
SculpSure is ideal for people who are otherwise healthy and report with trouble spots, particularly those that seem resistant to diet and exercise. These are often the waist and abdomen. This is considered "fit fat".
How many treatments are needed?
Everyone is different. A customized SculpSure treatment plan will be created based on body type, overall health and goals. At Aspire Med Spa we require a minimum of two treatments per area as we feel that is the minimum required to meet our patron's expectations.
What should you expect during the SculpSure treatment?
Most people feel a tingling sensation intermittently throughout the treatment best described as waves of heating and cooling. The practitioner is with you during the entire 25 minutes to ensure your comfort.
How long before patients can resume normal activities?
There is no downtime with SculpSure. Regular activity can be resumed immediately. This is an ideal treatment for lunchtime!
What is the difference between fat loss and weight loss?
The number of fat cells stored in the human body remains constant throughout life. As you lose weight, the size of the fat cells become smaller. They do not, however, decrease in number. It is a common scenario that people have difficulty losing weight in trouble areas (abdomen, waist, etc). After a SculpSure treatment, fat cells that are targeted and treated are permanently destroyed.
---
Please Note…
Our cancellation policy for this treatment is 48 hrs for a cancellation or appointment change or there will be a $150 cancellation fee. This policy is set by the Plastic Surgeon's practice and Aspire Med Spa has absolutely no discretion to waive this fee.
---
* Aspire! Med Spa uses Pronox for treatments Pro-Nox is a 50% N20 / 50% 02 analgesic delivery system designed to ease pain and anxiety during uncomfortable aesthetic or medical procedures.